Bishop Auckland Town Hall is hosting an action-packed programme of workshops, exhibitions, family fun days, film screenings and more during the school holidays.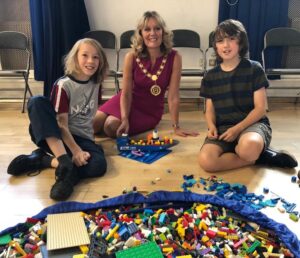 Partly funded by Bishop Auckland Town Council and co-ordinated by our staff, the free and low cost family activities got underway when deputy town mayor and county councillor, Cllr Joy Allen, joined youngsters at a Block Party.
As well as putting her construction skills to the test using Lego and Duplo, Cllr Allen accompanied children to a free storytelling and craft session with artist Rebecca Rose.
Cllr Allen said: "I have really enjoyed rekindling my childhood passion for Lego, but the best part has been seeing the children and families having fun together."
"It can be tricky to keep youngsters entertained during the school holidays, which is why we are thrilled to have such an exciting programme of free and affordable activities on offer at Bishop Auckland Town Hall."
Places for the events and workshops below can be booked in advance at the Town Hall Library desk or by calling 03000 269 524. Children under eight must be accompanied by an adult.
What is on?
Puppet workshops
The fun continues at the county council-owned venue on Wednesday 8 August, when Kando Arts will deliver shadow puppetry workshops at 10am, 11.30am and 1pm, priced at £1 per child. A puppet making workshop suitable for youngsters aged six and over will run from 10am to 11.30am priced at £1 per child.
Animals
Outside in the Market Place, Animals About Town will offer people of all ages the chance to meet and handle a variety of friendly farm animals. This is free and runs from 10.30am to 3pm.
Drama, music and circus skills
On Wednesday 15 August, children aged six and over can take part in drama and music workshops from 10am to noon, priced at £1 per child. And from 1pm to 3pm, they can enjoy the Circurama Circus Skills show and workshops, also priced at £1 per child.
Pop-up planetarium
On Wednesday 22 August, families can travel to distant galleries inside a pop-up planetarium from 10am to 3pm. Entry is free.
Storytelling and crafts
Rebecca Rose will return to the Town Hall gallery between 10.30am and noon that day for a free storytelling and crafts session. This will be themed around her summer exhibition, A Big Adventure, which runs until the end of August and features brightly coloured silhouettes for children to interact with and Rebecca's illustrations from her book of the same name.
Games
In the ground floor library area children can also find giant garden games, such as Jenga, snakes and ladders, hoopla, hopscotch and more.
Cinema
Every Thursday throughout August, a series of children's films will also be shown at 2pm, priced at £3 per child. Next up is Coco (PG) on 9 August, followed by Paddington 2 (PG) on 16 August, Ferdinand (U) on 23 August and Early Man (PG) on 30 August.
The gallery is open Monday to Saturday, during library opening hours.
To find out more about Bishop Auckland Town Hall visit the Bishop Auckland Town Hall website.